As evident in this Redfin Maryland Market Snapshot, the scales are still tipped in favor of the seller side in a transaction. In terms of competitiveness, the snapshot shows that in August 2021, 47.8% of listings sold for over list price (as compared to 33.1% in August 2020), and the average Sale to List Price was 101.3% (as compared to 99.8% in August 2020). A couple more interesting stats show that there were 10,981 houses for sale in August 2021, 26.2% less than in August 2020, and the median days on market was 27 days, as compared to 37 days in August 2020.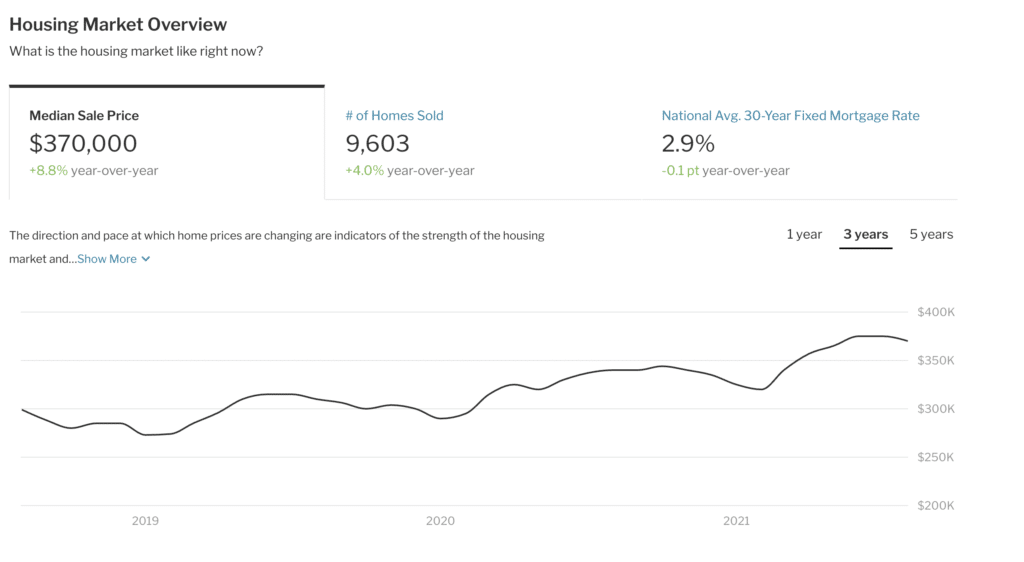 These numbers don't lie – overall, the sellers are in the captain's seat of a transaction in most Maryland markets. The result is often multiple offers, and here are our thoughts on how to navigate those waters to maximize your bottom line smoothly and effectively.
Buyer Financing: Cash, Conventional, or FHA
Although not the only factor to consider when you have multiple offers, taking a deep dive into the Buyer's financial position is a great place to start. The offer you receive will detail how the Buyer plans to pay you for the home. In all markets, a cash offer is going to be tough to outmatch. If an offer you receive is cash, and proof of funds is provided, it is our opinion that this Buyer should be high on your list because they come with the least amount of risk of the deal falling through due to a loan issue.
That said, receiving a cash offer is not a given and some Buyers who could pay cash may opt to hold onto that cash, take advantage of today's low rates and secure a conventional mortgage. Buyers who qualify for a conventional mortgage tend to be in a stronger financial position than those qualifying for an FHA. If you have multiple offers from Buyers who are all using some sort of financing, give preference to the one with conventional financing with the largest downpayment.
When considering the type of financing the prospective Buyers have presented, we also highly recommend vetting both the Lender and Buyer by talking with them. Personally, we believe local, experienced lenders are favorable to work with over larger, national brokerages. However, if your Realtor isn't already doing so, make sure you ask them to call the Lender to verify the financial position of the potential Buyer. This is commonplace in a transaction.
Time Frame for Closing
This is usually an easier piece of the puzzle to negotiate, but an important one to consider nonetheless. Again, in this market where you, the Seller, may be in a good position to dictate the timeline to close. Do you need a quick close? Are you interested in a rent-back agreement post-closing? Is 60 days to close better for you than 30?
Appraisal Contingency
As noted in the statistics in the opening paragraph of this blog, we are in a market where homes are selling for over-asking price. Because of this, it is imperative that you review and if needed, negotiate how the appraisal will be handled.
The type of financing will impact the appraisal situation. If a Buyer is cash, they can waive the appraisal entirely. However, FHA and conventional mortgages are going to include a home appraisal requirement. A strong, well-advised Buyer will submit an offer that addresses the scenario of an appraisal that comes in low, meaning that the appraisal value is less than the contract price. The appraised value impacts the maximum amount the loan can be. The best-case scenario for you as the Seller is a Buyer stating, in writing, that in the case of a low appraisal, they commit to covering the difference in cash that they prove they have. In other situations, the Buyer may set a cap to the amount they will cover in the case of a low appraisal. This isn't as favorable as a commitment to cover the difference no matter the amount, but it is better than nothing.
Home Inspection Contingency
Another key element of choosing the best offer to accept is the Buyer's preference for a home inspection. Similar to the appraisal contingency, the best-case scenario is a strong Buyer who is willing to waive any and all home inspections. This eliminates the chance of having to negotiate costly repairs and/or a seller credit for the Buyer to make the repairs post-closing.
Another strategy some Buyers will take is to ask for an inspection but for informative reasons only. Although it sounds favorable, be careful of a scenario where an inspection happens and something major is found. The Buyer could walk away from the deal and you are then in a situation of relisting, possibly with things to disclose. Food for thought!
If all of the offers in hand include a traditional home inspection contingency, consider countering with a cap on the amount you would be willing to pay for repairs/offer as a credit at closing.
CCB's Closing Thoughts….
If you are a Seller who ends up receiving multiple offers, consider it a great "problem" to have! You are in a great position to maximize your ROI. In addition to the key components of an offer addressed above, it is worth considering who is representing the Buyer. An experienced Buyer Agent, especially if backed by a supporting team of transaction coordinators, is favorable in our opinion. We wish you the best with your real estate endeavors and appreciate you reading. As always, feel free to contact us with any questions. We'd love the opportunity work with you!